AGRIKIM Import & Export JSC is the most prestigious Vietnam black pepper exporter. We have our own black pepper factory with a capacity of 300 tons/month and ISO 22000:2018 certification, so we believe that we can provide you with the best black pepper quality, best price and full necessary certification for your shipments. If you are looking for a reliable black pepper exporter and manufacturer from Vietnam, we are your best choice!
♦

 

Reliable Vietnam black pepper exporter

√

We are an active member of Vietnam Pepper Association

♦

Modern factory

√

We have large factory with modern processing machines to produce big quantity each month

♦

High quality black pepper

√ 

Black pepper meets export quality standards and full export certifications

♦

Offer very competitive price

√

We offer the most competitive price for FOB or CIF term

♦

Free sample

√

We provide free 0.5kg sample for your test

♦

Good customer service

√ We are glad to solve your concerns anytime and anywhere. Whatsapp:

+84 363565928

(Mr. Adam – Sales Manager)

– Product name: Black and White pepper
– Origin: Vietnam
– Manufacturer: AGRIKIM
– MOQ: 1MT
– Sample: Free sample
– Packing: 25kg or 50kg PP bag or customized
– Container Capacity: 17MT/20'FT and 28MT/40'FT
– Transportation: Sea or Air
– Payment terms: 20% advance and 80% TT or DP or LC
– Price: $2600 – $2999/MT (Whatsapp: +84 363565928 for details)
ABOUT AGRIKIM – MANUFACTURER AND EXPORTER FROM VIETNAM
1. THE MOST RELIABLE VIETNAM BLACK PEPPER EXPORTER
Agrikim is a prestigious Vietnam black pepper exporter and manufacturer also. We always work with 1 principle: respect our clients, appreciate what clients bring to us and never leave them behind.
2. A REPRESENTATIVE OF VIETNAM SUPPLIERS
AGRIKIM is also a representative of reliable black pepper suppliers from Vietnam at Exhibition and Trade Fairs such as Sial, Anuga and Gulfood.
3. MODERN FACTORY CERTIFIED ISO 22000:2018
We have a modern factory to produce high quality pepper which is ISO 22000:2018 certified, a factory with a capacity of 300 tons per month to ensure that we can meet clients' orders from small to large.
4. LOYAL CLIENTS
We have loyal clients from all over the world such as:
Asean: Qatar, Saudi Arabia, Uzbekistan, Japan, Malaysia, Thailand, Bangladesh, Iran, Yemen,…
Europe: Russia, Turkey, Czech, Ukraine, Switzerland, Germany
North America: Canada, Mexico
South America: Bolivia
Africa: Mauritania, Libya, Mali, Egypt
TYPE OF BLACK PEPPER AGRIKIM SUPPLY
The type of pepper is distinguished based on two main factors. Those are the cleaning method and the density of the pepper, from which these requirements will determine the taste and price of pepper.
Black pepper FAQ
Black pepper FAQ is the one that is only simply processed, separated from branches, impurities (soil, rocks), not sorted into separate large and small seeds, not washed.
Black pepper FAQ quality is classified based on density, including black pepper 500G/L, 550G/L, 570G/L, 580G/L. The higher the density of pepper, the harder the seeds, the spicier the taste, and the higher the price
BLACK PEPPER MACHINE CLEAN
Black pepper machine clean, also known as ASTA standard, is the one that is cleaned by machine. Because this is machine-cleaned pepper, so the quality will be higher than black pepper FAQ, and the percentage of moisture and admixture are also lower than pepper FAQ
Similar to black pepper FAQ, black pepper machine clean quality is also classified based on density, including pepper 500GL, 550GL 570GL, 580GL 600GL .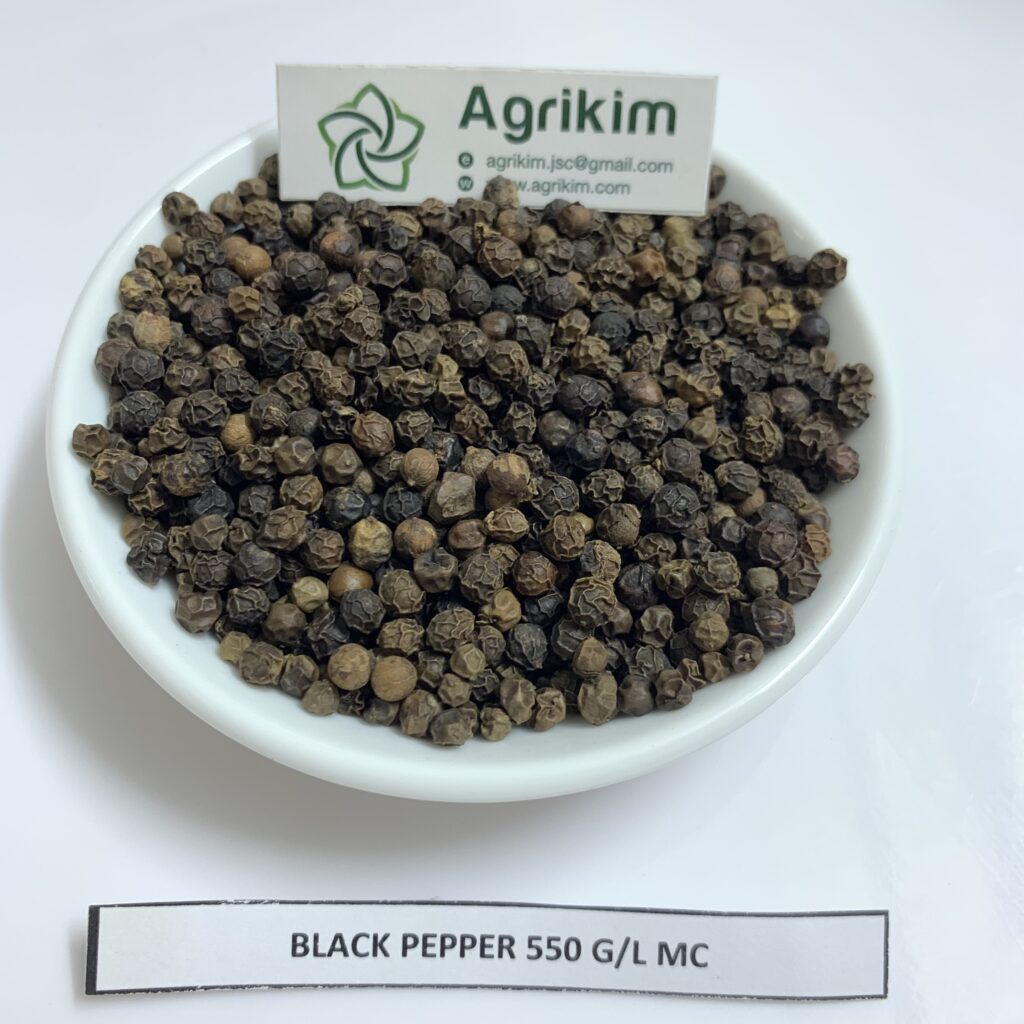 BLACK PEPPER 5MM is the one with a diameter of 5mm, this is also call black pepper machine clean with the best quality and the highest price
BLACK PEPPER LIGHT BERRIES
Black pepper light berries has density from 200GL to 450GL
BLACK PEPPER PINHEAD
Pin head pepper is the smallest size, ranging from 1mm – 2mm
PEPPER GROUND (POWDER)
Black pepper ground is produced from whole black pepper. To be able to meet black pepper quality standards for export, black pepper manufacturers from Vietnam as AGRIKIM will use high-density whole black pepper materials to grind into high-quality black pepper ground. AGRIKIM will ensure that the black pepper ground will have a typically pungent taste
Black pepper ground is also classified based on size such as mesh 18, mesh 32, mesh 60,…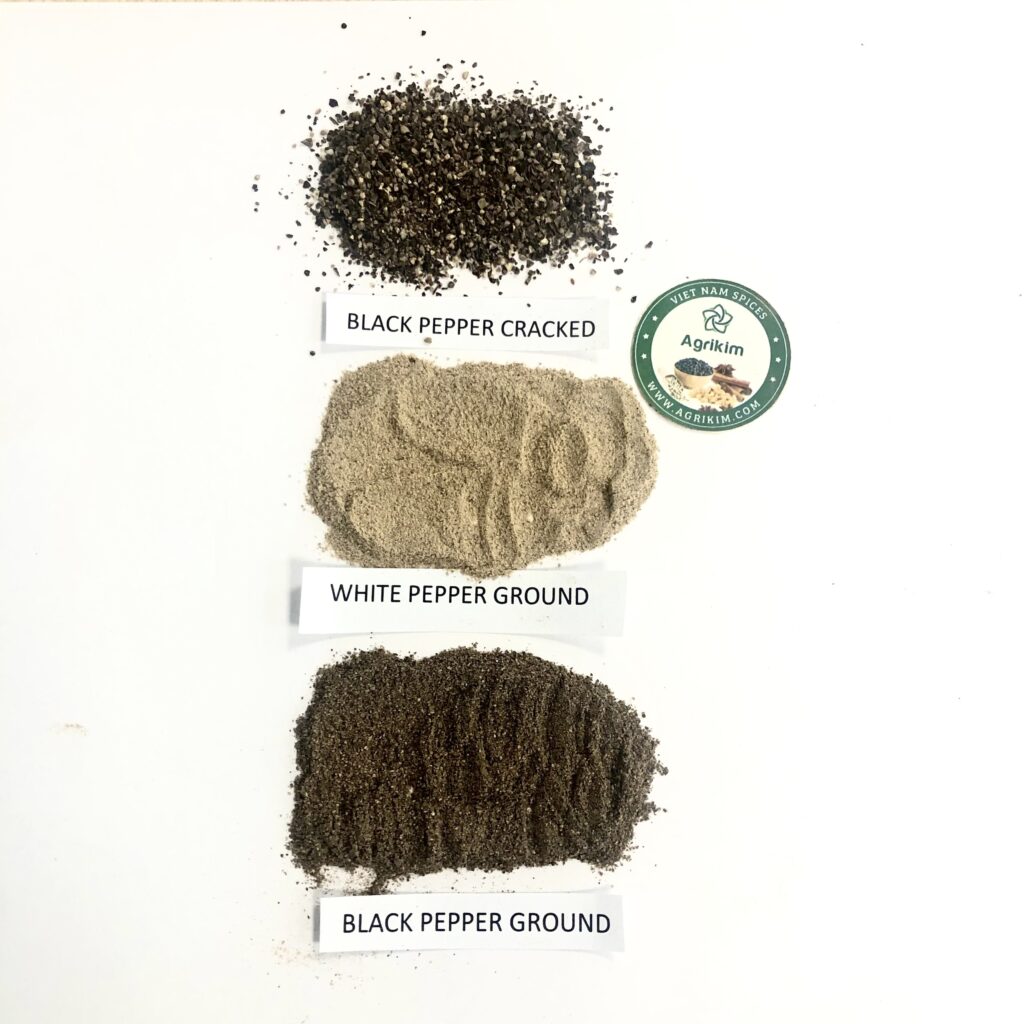 In addition to keeping the taste of pepper for a long time, Agrikim can also take pepper ground to a special sterilization room to conduct ETO sterilization or steam sterilization depending clients' requirements
WHITE PEPPER
White pepper is produced from black pepper which was peeled and washed. Because white pepper was shaved off the skin, white pepper is the type of pepper with the largest density of about 630G/L and the highest price.
For more details about black pepper price from AGRIKIM supplier: https://agrikim.com/black-pepper-wholesale-price/
SPECIFICATIONS OF BLACK PEPPER
Below are the specifications for each type of pepper:
CRITERION
SPECIFICATIONS
Black pepper FAQ
Black Pepper MC
White pepper
Ground pepper
Light berries
Pinhead
Moisture
13.5% max
12.5% max
12.5% max
12% max
13.5% max
13.5% max
Admixture
1% max
0.2% max
0.2% max
0.1% max
6% max
N/A
Load in 20FT
17MT
17MT
17MT
13.5MT
8MT
9MT
Load in 40FT
28MT
28MT
28MT
25MT
18MT
21MT
PACKING AND TRANSPORTATION
Pepper is usually packed in 25kg or 50kg PP bag or Jute bag, the marking provided by clients will be printed on the outside of the bag. In addition, AGRIKIM can also prepare packing according to clients' requirements
CERTIFICATIONS
We have ISO 22000:2018 certification, SGS certificate for each shipment and other documents depending on client's requests
If you want to know more details about black pepper, please contact me via whatsapp: +84 363565928 (Mr. Adam). I am very glad to bring my best pepper, best price and best support to you ^^