Are you an importer seeking the best prices for cashew nuts? Look no further! Our latest update on Vietnam cashew nuts price will provide you with the most competitive deals in the market. Read on to gain clear awareness about the current prices and grab the opportunity to source high-quality cashew nuts at competitive rates.
Newest update on cashew nuts price from Vietnam origin
To ensure you have access to the most accurate and cost-efficient information, we present the latest cashew nuts prices from Vietnam:
Cashew nuts price
FOB HCM. Packing: 2X10kg vacuum in a carton
Cashew nuts WW180: $8.15 – $8.6/kg
Cashew nuts WW210: $7.1 – $7.5/kg
Cashew nuts WW240: $6.3 – $6.6/kg
Cashew nuts WW320: $5.6 – $6.0/kg
Cashew nuts WW450: $5.1 – $5.4/kg
Cashew nuts WS: $4.5 – $4.9/kg
Specifications:
Moisture: 4.5% Max
Total defect: 8% Max
AFI standard
To get to know more about packing, shipping or get the best price. Feel free to contact via email/WhatsApp:
WhatsApp: +84 363 565 928 (Mr. Adam)
Email: agri@agrikim.com
Overview of Vietnam cashew nuts
Vietnam is renowned for its premium-quality cashew nuts. With a strong reputation for producing deliciously crisp and flavorful cashew nuts, Vietnam has become a preferred sourcing destination for importers worldwide. Not only do Vietnamese cashew nuts meet the highest industry standards, but we also offer a cost-effective option without compromising on quality.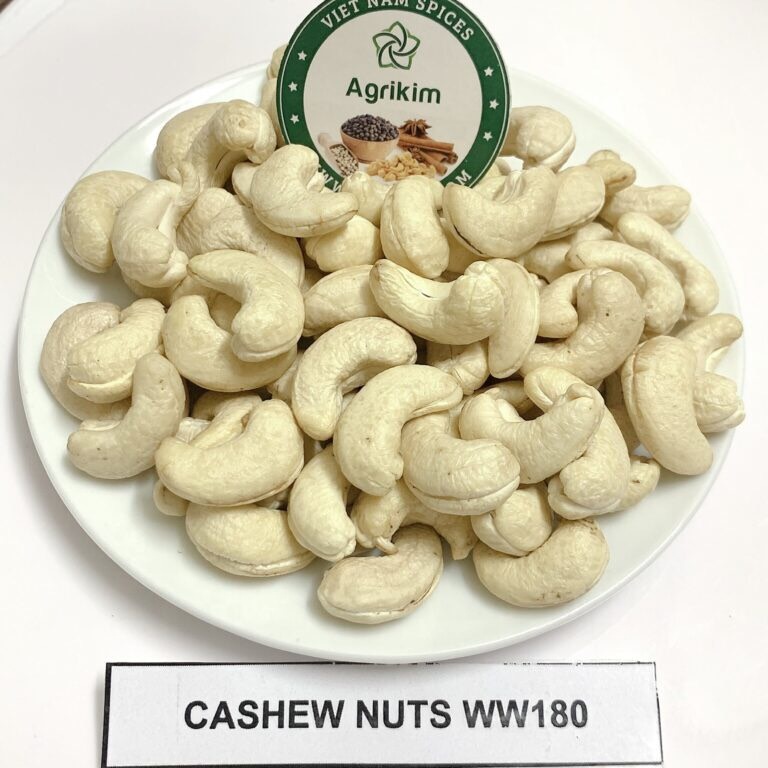 In conclusion, hopefully, our latest update on Vietnam cashew nuts prices provides you with the the best choice for purchasing cashew nuts from Vietnam. With competitive pricing and a reputation for superior quality, AGRIKIM is the an ideal manufacturer for importers seeking cost-effective cashew source. Take advantage of these attractive deals on cashew nuts from Vietnam by contact us today to discuss your requirements and move forward!
AGRIKIM IMPORT & EXPORT JSC
Dong Anh district, Ha Noi city, Vietnam
Mr. Adam – Sales Manager (+84 363 565 928)
Email: agri@agrikim.com