Robusta Coffee prices increased again in the last session of the weekend.
Trading positions closed on November 1, and capital management funds increased the number of short contracts: London 20,228 lots and New York 10,386 lots.

The USD/DXY value index fell terribly after the previous day's hot rise. The downward impact (I rarely see this happen) helped coffee prices rise again at the end of the week. The value of the local currency Brail rose to a 2-month high against the USD.

Inventories that met the standards of the two exchanges before yesterday's trading session reported a decrease, but its impact was not equal to the decrease in the dollar value. Inventories on 3/11 New York 382,695 bags or 22,695 tons and robusta 91,520 tons.

London's oversold indicator remains, but New York is out. 14-day RSI in London 28.96% and New York 33.72% against reference 30%.

Colombian coffee exports in October/22 decreased by 5% compared to the same period in 2021 to reach 942,000 bags.
According to the Ministry of Agriculture and Rural Development, coffee exports in nine months reached nearly $3.1 billion, up 37.6% over the same period last year. The special thing is that this growth is contributed by export prices with an increase of nearly 22% and an average of about USD 2,280/ton.
Vietnam Seizing the advantage, Vietnam's coffee industry conquers a new record
The European Union (EU) continues to be Vietnam's largest coffee consumption market with a market share of 39% of the total. Export volume in 8 months, reaching nearly 490,700 tons with a value of $1.1 billion, compared to the same period last year increased over 27% in volume and over 54% in value.
According to the Institute of Policy and Strategy for Agriculture and Rural Development, in the EU. Vietnam's coffee exports to a number of markets such as Belgium, Spain, the Netherlands, France, Portugal. Same period last year. Despite inflation reaching a 20-year high, coffee exports to the EU still grew well.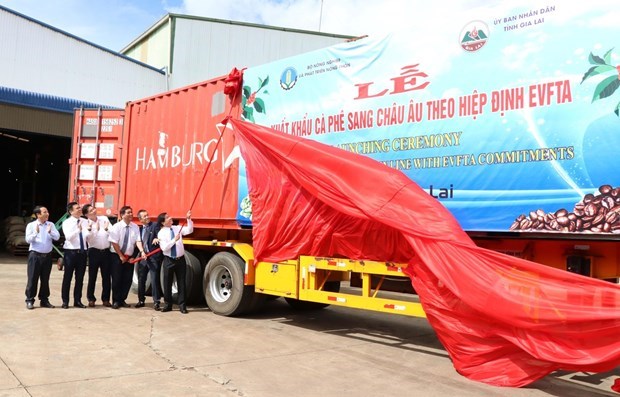 This is because coffee is an essential commodity, an indispensable drink of Western countries. On the other hand, the tariff advantage from the Vietnam-EU Free Trade Agreement (EVFTA). Also brings a great incentive for coffee exporters to this market.