The situation of the world pepper market Vietnam Pepper Association
According to Vietnam Pepper Association, The 2022 harvest is underway in Vietnam, Cambodia, India, and Brazil.
The amount of stock in the consuming countries is still sufficient to meet the demand. The global pepper price in recent months has not shown a significant fluctuation. However, global pepper production is forecasted to continue to decrease by 3% in 2022 (according to IPC), mainly from Vietnam and India.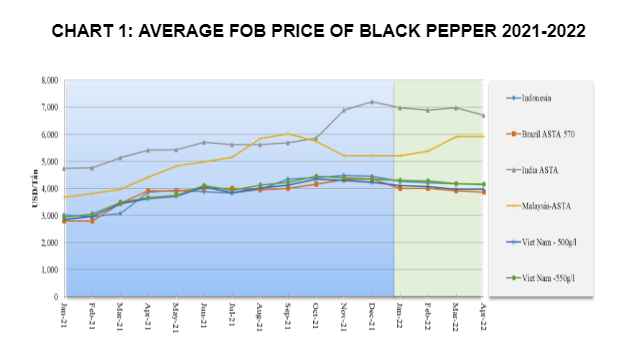 Global pepper exports from producing countries in 2021 are estimated at 475,889 tons. It down about 4% compared to 2020, instead of decreasing 9% compared to the previous forecast.
Compared to the fourth quarter of 2021 the average FOB price of black and white pepper in the first quarter of 2022 of the producing countries decreased simultaneously, except for black pepper in India and Malaysia. Brazil is currently the country supplying Pepper with the lowest price.
The US's pepper consumption demand in 2021 continues to increase with the amount of imported pepper reaching 94,174 tons. It up 8.8% in volume and 44.4% in value compared to 2020. The EU strengthens control of Controlled pepper imported from Brazil with the requirement of a certificate. Analytical results demonstrating the absence of Salmonella.
The situation of the Vietnam Pepper market Vietnam Pepper Association
Vietnam's pepper harvest has ended with a decrease of about 10% compared to 2021. In Dak Nong, which accounts for about 45% of Vietnam's pepper production, there are differences between harvesting regions. Like good crops in Dak Song, Dak R'lap, and Tuy Duc districts and bad crops in Dak Mil, Dak Glong, and Cu Jut districts, overall production in Dak Nong increased by 10% compared to last year.
Meanwhile, in the remaining key pepper-growing provinces such as Gia Lai, Dak Lak, Binh Phuoc, Dong Nai, and Ba Ria Vung Tau, the average yield decreased by 20% compared to 2021, the main reason is still due to the influence of Due to climate change, many old pepper gardens are too old for business, so productivity is low and diseases on pepper plants still have no specific treatment.
In the first quarter of 2022, Vietnam exported 54,615 tons totally black pepper reached 45,384 tons, and white pepper reached 9,231 tons. Total export turnover reached 254.4 million USD, black pepper reached 199.2 million USD, and white pepper reached 55.2 million USD. Compared to the same period last year, export volume decreased by 11.3% or 6,969 tons, but export turnover increased by 41%, equivalent to 74 million USD.